IAT弁理士法人
IAT WORLD Patent Law Firm
IAT, which has been founded in 2002, is an international law firm handling patent, utility model patent, design and trademark. There are totally 20 employees including 6 patent attorneys working at Tokyo head office, Ueno office, Nagano office and Shanghai (China) office. We have handled to file Japanese patent applications from our overseas clients, such as in US, Europe, China, Korea and Taiwan. We believe that we can help your business in Japan. URL 
http://www.w-pat.com/en/index.html
IAT promises the following two commitments to the clients.
●1. IAT always contributes to the growth of the client's business by realizing the maximum potential of the client's IP (Intellectual Property) based on worldwide perspective.
IP is a business tool which is valid all over the world. Therefore, IAT proposes to utilize IP strategy for the client's business. Each employees understand well about foreign IP systems in addition to Japanese IP system and also have wide knowledge and experiences regarding the other areas (such as design, trademark or license) besides his/her special area (for example, patent).
● 2. IAT provides services to the clients with a view of "beyond 100%"
First, IAT, as an attorney office of IP, provides with a sense of security by achieving 100% results requested by the clients. Furthermore, IAT tries to provide some value-added (beyond 100%) in order to provide further satisfaction. We, as "Team IAT", will keep our promise written above and provide the best services to our clients.
 
Our services
The features of IAT are
"QUICK RESPONSE", which big firms tend to lack and
"COMPREHENSIVE STRENGTH", which individual firms tend to lack.
 
Prosecution
Patent and utility model patent
We are adapted to wide range of technical fields including electricity, mechanics and optics. We also have many experiences in international application to more than twenty foreign countries. During prosecution, we adopt an adequate response for obtaining the registered patent by utilizing the necessary measures including, as necessary, a meeting with the examiner.
Design
We handle many design applications including graphic image design applications. We also have many experiences to file design applications all over the world, more than twenty foreign countries, including a Hague system application.
Trademark
We correspond to the various requirements by our clients and handle wide range of trademark applications in the field of machinery, food, commodity, electric product, education, restaurant, sport, event, computer, etc. We have many experiences to file international applications based on Madrid protocol system to more than seventy foreign countries.
Access
Head office
How to access: 1 minute on foot from Exit No. 3 of Shin-Nakano station, Tokyo Metro Marunouchi Line
Address: 7th Floor HULIC Nakano Bldg. 44-18, Honcho 4-chome, Nakano-ku,Tokyo 164-0012
TEL:
+81-3-5342-1181
FAX: +81-3-5342-1182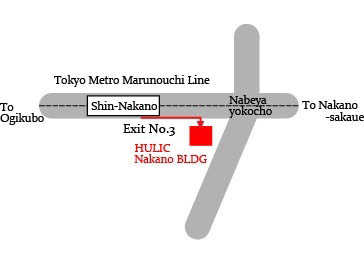 Shanghai office
Room22B,Oriental International Technology Building No.58 Xiangcheng Road,Pudong,Shanghai,200122,P.R.China
TEL: +86-21-38820881
For more detailde information and questions,
please contact to above patent office directly
(about)